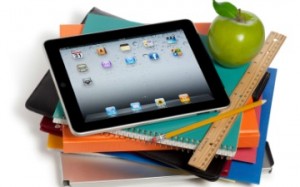 Hello everyone!
I hope you are all well.
Back by popular demand!!! 🙂  I would just like to remind you that I have invited Sandra Laine from the RÉCIT National to come to the CSBE for our workshop this coming Friday, October 21st . Many of you have mentioned wanting to integrate more technology but would like some help with planning and organizing activities with ICTs. If you are looking for different ways to integrate technologies in your classroom, for help with how to manage the classroom (for example, with only a few iPads), for concrete activity examples, for TIME to plan and to share….this is the workshop you don't want to miss.
The workshop is entitled – Using technology in the ESL classroom – Management and differentiated classroom organization and it's the first part of a two part workshop that has been built to fit your needs.
Below you will find the intentions and the agenda of the workshop.
Intentions of the workshop:
To look at different ways to integrate technologies in the classroom.
To present effective classroom organization approaches.
To guide teachers in planning of activities and classroom organization with technologies.
To experiment an ICT activity.
Agenda:
Morning
Present the ICAP model (framework)
Look at different integration ideas (hands-on)
Activity 1: Plan an activity integrating technology
Afternoon
Present effective classroom organizations, approaches and management tips.
Show examples of activities.
Activity 2: Plan classroom organization of the chosen activity.
Present briefly what participants worked on during the session.
I would like you to bring an LES that you are planning to use with your students this year. If you have a laptop computer, please bring that along with you as well.
If you have any problems registering for the workshop, let me know and I will register you from here.
I hope to see you there!