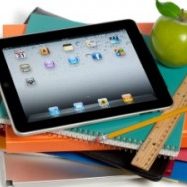 Hi everyone!
I would like to wish you a wonderful beginning to the 2015-2016 school year. 
I would also like to let you know that I will be offering a training day on August 27th – Using Tablets in the ESL Classroom.
Below you will find the intentions and the agenda of the workshop.
Intentions of the workshop:
To look at technology integration ideas.

To be more autonomous using various apps and the tablet.

To be more productive and efficient using tablets.

To transfer what you discover today in your practices.
Agenda:
Morning
Rallye

Presentation

C2 and the iPad – Presentation of the different tasks

Working with the iPad
Afternoon
Working with the iPad

Presentations of the final products

Sharing the productions and classroom management

Wrap-up activity
iPads will be provided for the workshop and will have all the necessary apps installed.
You will need to bring a book (a literary text) that you would like to use with your students.
You also need to create a Dropbox that you will use for your classroom. Click here https://db.tt/ROQBFa1l
If you need any help creating the account or have any questions about the workshop, call me at 2372 or write me.
I hope to see you there!
🙂 Dianne